At this year's Hannover Messe conference, I had the opportunity to discuss the value of 5G connectivity in manufacturing. Sitting down with a panel of fellow colleagues in Microsoft's ISV program, we talked about the current state of technology for many of our strongest industries, the emerging solutions available as they seek to modernize and what impact weavix™ can make to build a truly connected workforce through 5G. I want to personally thank our partners at Microsoft, including Shriraj Gaglani, for inviting me to this panel and the inspiring leaders in 5G innovation whom I had the honor of presenting alongside.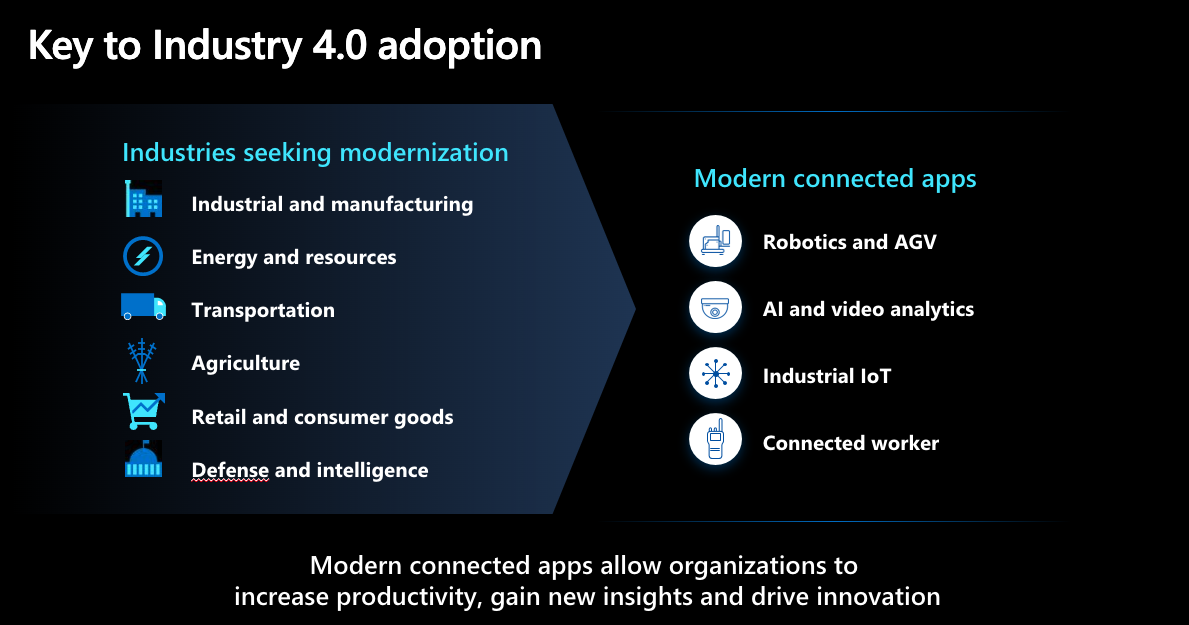 Manufacturing, as an industry, has hit a crucial juncture in its long history, namely surrounding its desire and need to modernize. The ongoing innovations brought out through the latest wave of digital transformation has created an entire marketplace for emerging technologies that will impact virtually all industries, including manufacturing: artificial intelligence, IoT, robotics, and more. Modern connected apps, such as those listed prior, drive innovation at a foundational level in the workplace, allowing organizations to gain insights they can use to strategically increase productivity and revenue at scale.
What powers these innovations? Modern connected apps make it possible to break down traditional barriers to improve collaboration and grant real-time access to data from anywhere, but what's making it possible for them to do that?
The answer's simple: Private 5G.
Private 5G and Building the Connected Worker
Private 5G creates a customizable network to support modern connected apps and enable manufacturers to effectively utilize what each one sets out to do. Together, these innovations contribute to the creation of the connected worker, which has consistently been shown to deliver improved quality and operational efficiency.
But first, what is the connected worker? It's the point where software, technologies, data exchanges and machines all meet to engage workers in their jobs and support them in doing their best work. The key component of a connected worker is that their software solutions are integrated, and they are fully enabled by the technologies available to the worker.
Connected worker platforms transform an individual's activities into data points that merge within a broader system in real-time. In manufacturing, these data points translate into a full breadth of analytic opportunities to bring about positive organizational change to industries that have historically been on the outsides of modern innovation. At weavix™, we took the term 'connected worker' literally, where the physical technology is on their person to securely gather important characteristics needed for successful safety response and operational efficiency.
The value of these solutions is obvious and widespread; applications can be identified in virtually every aspect of a manufacturing enterprise. But to make these solutions possible and worth the investment, they require a dedicated network that (1) poses virtually zero security risk, (2) is simple to deploy and scale with the organization, and (3) is reliable across a plant's entirety. As it stands now, 5G private LTE is the only available solution to truly support modern connected apps and organizations seeking to use them.

During our presentation at Hannover Messe 2023, we discussed the difficulties organizations are facing with adopting modern connected apps and then applying the data they provide in a meaningful way. As it stands, the ecosystem is booming, but was fragmented and organizations experienced challenges with finding, building, managing and scaling these solutions. Early-stage products posed their own barrier to organizations, as they were usually developed on a case-by-case scenario and required significant time and financial investments to deploy and administer.
Prior to Microsoft Azure pMEC, these issues persisted with nearly any 5G application. weavix™ is part of a marketplace consisting of hand-picked applications in the Microsoft ISV program designed to resolve those key challenges keeping the manufacturing industry from modernizing and improving their operational efficiency with connected workers. Our fast deployments and the advantage of a distributed cloud-managed architecture significantly cut both financial barriers and time commitments, so manufacturers can experience on-site collaboration virtually instantly.
The Role of Private 5G in Modernizing the Manufacturing Industry
5G plays an important role for industries seeking to modernize. It provides a secure, reliable and powerful environment for modern connected solutions to provide enterprises with real value in the ways of productivity, connectivity, safety, revenue and more. A private 5G network enables manufacturing facilities to drive their digital transformation efforts and incorporate modern applications into their tech stack that benefits their workforce. With it, enterprises can also aspire to build a fully connected worker environment within their own facilities.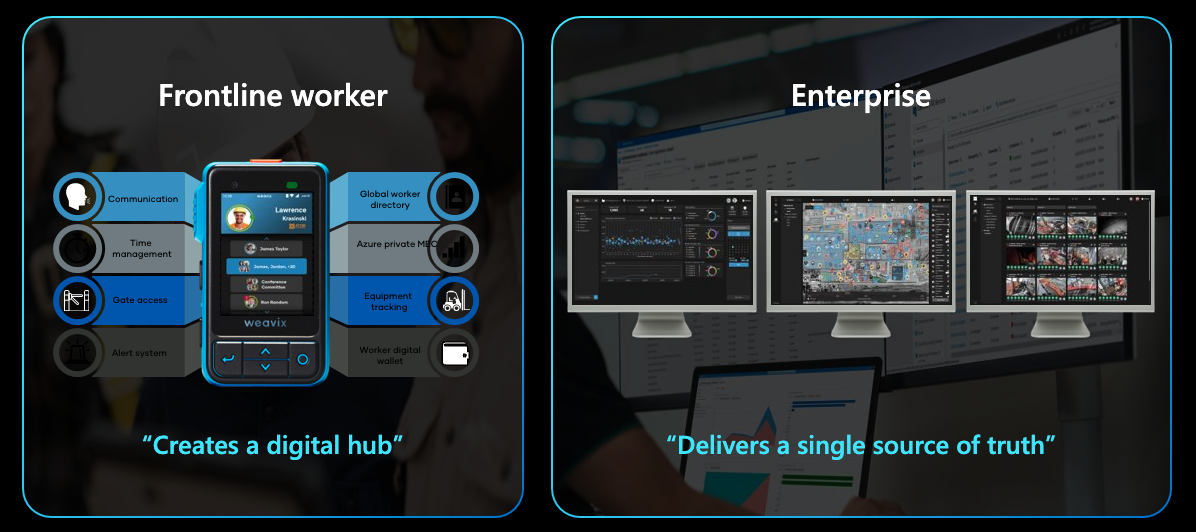 As the preferred platform for private wireless, weavix™ leverages 5G to relay everyday communications and safety notifications between office and frontline teams through our walt™ smart radio. When developing our platform, we made a strong push for unifying communication at the enterprise level in order to create a digital hub that transforms how the manufacturing workforce interacted with each other. The key issues workplaces experienced with their radios were:
Minimal innovation surrounding communication, even as studies showed that communication positively impacted organizational productivity and safety;
Financial barriers as the cost to purchase radios and to maintain the needed infrastructure continued to rise as the capabilities stagnated under an operational technology (OT) pricing model;
Insufficient network offerings in frontline work environments, including speed, security, user density, coverage and cost;
The inability to collect and analyze safety data in real-time and historically as it pertains to the end user, i.e., the individual worker, to monitor emergency response and audit existing procedures.
The walt™ serves more purposes than purely providing communications and safety messages to all workers in a plant with a low-cost, disposable radio, however. The final two bullets highlight where 5G-enabled technology and networking solutions fit into the realm of manufacturing.
When comparing network options in a manufacturing or heavy industrial environment, it's easy to see that the benefits such as speed, security, latency and more are all much more prominent and viable with private 5G. If that's the case, then why does it seem like Wi-Fi is the default choice when these workplaces decide to switch up their network? Private 5G is exactly as it sounds: only authorized users and devices have access to the network, which keeps it from overloading with data and information from IoT devices and sensors. It ensures that data processing from all your modern connected apps happens in real time by bringing your networking as close to the point of request as possible (to the edge) to offload network traffic and alleviate bandwidth, latency and network slowdowns.
Private 5G networks are shaped to fit the unique needs of the business, allowing network owners to customize their coverage map and maintain steady networking capabilities across its entirety. This brings us to the final bullet regarding the collection and real-time or historic analysis of safety data per individual.
Connected applications and devices are continuously sending and receiving information to and from access and endpoints, which provides a lot of valuable data that enterprises have used to drive positive change, cut waste and improve revenue streams. But these solutions are largely dependent on the network they're operating on for the most accurate and robust information. For example, at weavix™, the safety information and communications are tied together. So, if a worker ever experiences a "dead zone" – a common occurrence with other network options in such environments – that directly affects the performance of the device and the accuracy of the data provided. Private 5G minimizes the chances of these coverage gaps in the workplace so end users can maintain reliable connectivity and a complete safety and communication environment.
Are We Ready for Connected Workers in Manufacturing?
During our presentation at this year's Hannover Messe, my colleagues and I discussed the idea behind the connected worker. As technology changes the way businesses operate, many of these technologies have directly impacted how people work, either through automation or how they interact with others. The connected worker is somewhat a result of digital transformation: by creating and deploying new devices built to serve a specific function digitally, these innovations rightfully made their way to the frontline workforce.
Connected workers in manufacturing can lead to great improvements enterprise-wide. There are complex implications for nearly all modern connected applications that directly benefit workers which causes a chain reaction to further improvements and benefits for an entire organization. weavix™, for example, connects every worker with a walt™ smart radio.
This simple concept instantly increases collaboration, gives direct access to subject matter experts and closes the gap between office and frontline workers. The rise in communication and collaboration has a direct impact on both efficiency and safety, allowing for immediate action regarding operational issues and intervention during emergencies. Then these devices feed contextual data back from your connected workers for further analysis, largely over safety concerns and where improvements can be made.
Manufacturers seeking modernization should look at how connected workers can exponentially impact their operations.
I wanted to thank our partners at Microsoft and the other ISV program participants once again for allowing me to represent weavix™ on the panel: "The Value of 5G for Industrial Operators". 5G-enabled technology continues to grow and has exciting implications for manufacturers and all industries seeking to modernize their operations.
Watch the full panel discussion here for more information about 5G in manufacturing and the role weavix™ plays in building a truly connected workforce.

Subscribe
Don't miss out on industry news and information. Subscribe to interweave, the official weavix™ blog today.